Final Vows for three Franciscan Brothers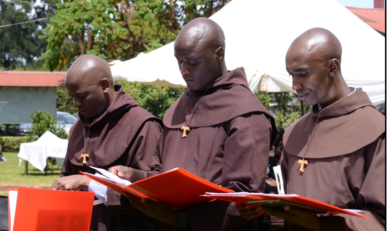 Brother Albanus:  At present he is pursuing a BSc in Business Administration/Human Resources at St. Paul University,  Nakuru.  
Brother Peter:  He is a member of the teaching staff of Keriko Secondary School located close to our brothers community in Lare.
Brother Gerald:  Currently he is the dean of studies at St. Francis Secondary – Lare and teaches Biology, Chemistry and Computers.
September 2018: Our congregation of brothers, along with the universal Church, rejoice that these three men now give their commitment to stand in solidarity, for life, with the rural poor.  We thank and appreciate the families of these three brothers for encouraging them to discern the calling to serve the Lord as Franciscan Brothers. St. Francis, in the prayer for peace, reminds us that it is in giving that we receive…'You have given our Brotherhood your sons; the Lord promises you a hundred fold here on earth and eternal live in heaven.' (Mk. 10:30).
"This is Africa's time," proclaimed Brother Peter Mokaya Tabichi on being announced the 2019 Global Teacher of the Year Award. In a ceremony held in Dubai on Sunday, March 24, Brother Peter was awarded the top prize.  Along with his students, friends and family, our community was elated when Br. Peter made it to the top 100.  Then came the Top 50, and following that, the Top 10.  But Brother Peter's taking of the most prestigious award in education to Africa, must rank among the greatest moments in our Order's history.  What a boost for young African teachers and students and what an amazing personal honour for Brother Peter and for our community of teaching brothers!  Brother Peter received the award from Hugh Jackman and also on the stage was the Crown Prince of Dubai, Sheikh Hamdan bin Mohammed Al Maktoum. 
We are so proud of you Brother Peter!  In celebrating your achievement, we humbly thank the Varkey Foundation and all those associated with the Global Teacher Award.   And we praise God, who in His divine providence, blessed Brother Peter with the beautiful gift of teaching, and led him to this internationally recognized achievement.   May God continue to use Brother Peter as a role model for all educators, opening their minds to what is possible when one believes that, given the opportunity, students will embrace challenges and exceed our wildest dreams.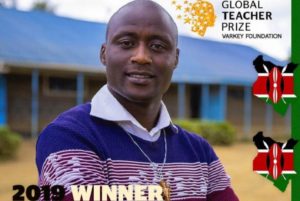 Statement by Brother Tony Dolan, Minister General of the Franciscan Brothers:  "This is a great achievement and a wonderful honour for Peter, his Family, his school community, the two schools in which he taught prior to moving to Keriko three years ago – Offaka Secondary School, Uganda and St. Francis Lare, Kenya – his Lare Brothers Community and the Lare Geographical Community, all teachers especially those of Kenya/Uganda and all Kenyans as expressed by President Uhuru Kenyatta this evening, all of us his Franciscan Brothers in Kenya, Uganda, Ireland and California, families, friends, Agencies and individuals who so generously support the mission of the Franciscan Brothers.
As we send our hearty congratulations to Peter, his Dad, brother and sister who are with him in Dubai together with Br. Bernard Kariuki, representing the Franciscan Brothers, and the Principal of Keriko Secondary School, his family and friends back in Kisii we also thank and praise our loving Creator for giving Peter the gifts, the creativity and capacity for hard work that has enabled him achieve such a prestigious honour.  We thank all those who have supported Peter on this journey and pray that his achievement will motivate and encourage teachers in schools serving the marginalised in our society to work with passion and  professionalism to provide learning environments that will allow all our children and youth develop their talents and achieve sustainable, fulfilling livelihoods that lead to happy, peace and love filled lives.
Peter's achievement also authenticates the mission of the Franciscan Brothers in East Africa. This mission is focused on the holistic capacity and capability building of small scale farmers and rural youth be it in the formal government or non-government education sectors or through the promotion of sustainable agriculture in the three institutions which they run – Baraka Agriculture College and MCM Lare in Kenya and Adraa Agriculture College in Uganda. To show that a teacher from an under resourced  government secondary school in a poor rural area of Africa can be recognised as the best teacher in the world gives hope to all who have the vision for a fair world in which each person has the opportunity to live a life of dignity.  Thanks and congratulations Peter and may your wonderful victory give hope and confidence to all marginalised people."