Final Vows for three Franciscan Brothers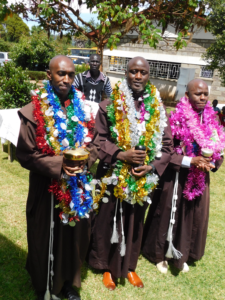 Brother Albanus:  At present he is pursuing a BSc in Business Administration/Human Resources at St. Paul University,  Nakuru.  
Brother Peter:  He is a member of the teaching staff of Keriko Secondary School located close to our brothers community in Lare.
Brother Gerald:  Currently he is the dean of studies at St. Francis Secondary – Lare and teaches Biology, Chemistry and Computers.
Our congregation of brothers, along with the universal Church, rejoice that these three men now give their commitment to stand in solidarity, for life, with the rural poor.  We thank and appreciate the families of these three brothers for encouraging them to discern the calling to serve the Lord as Franciscan Brothers. St. Francis, in the prayer for peace, reminds us that it is in giving that we receive…'You have given our Brotherhood your sons; the Lord promises you a hundred fold here on earth and eternal live in heaven.' (Mk. 10:30).