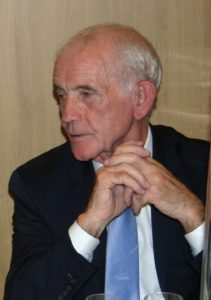 Dear Brothers and Sisters, welcome to the website of the Franciscan Brothers of the Third Order Regular as we celebrate our bicentennial year of serving God's people. You are meeting us at a marvelous time in our epic journey from the early days of catechesis and rudimentary education for the rural poor in the west of Ireland to our mission today of enhancing human sustainability via formal education in agricultural and academic skill development among the rural poor in Uganda and Kenya.
In pursuing our mission and setting forth on another 200 year journey, we are reminded that new times call for new methods. In the words of Pope Francis, "For new wine, new wineskins. The newness of the Gospel. What does the Gospel bring us? Joy and newness. To what is new, newness; for new wine, new wineskins. Not to be afraid of changing things according to the law of the Gospel. This is why the Church asks us, all of us, for a few changes. She asks us to leave aside structures bound to collapse. They are useless! And get new wineskins, those of the Gospel.
This is a blessed period for our brothers as we are still in the celebration period of our bicentennial of serving God's people, while at the same time, we stand on the threshold of our General Chapter in June 2023.  In pursuing our mission and setting forth on another 200-year journey, the theme of our Chapter seems particularly apt: "For new wine, new wineskins.
In planning for the Chapter, we are inspired by the words of Pope Francis: "The Holy Spirit guides us where God wants us to be, not to where our own ideas and personal tastes would lead us" (opening of Synod, 09 October 2021).
Please join us in praying for the success of General Chapter. In case you haven't got a copy, the following prayer may be helpful:
 Prayer for the General Chapter
O God, our loving and merciful Father for two hundred years you have blessed our Institute with the gifts of fraternity and of ministry. We thank you for our past and humbly pray that your Holy Spirit guide us to discover and develop new forms of religious life for us today in your Church according to our founding charism. Our Brother Jesus, be a felt presence among us as we contemplate in General Chapter the new earth reality and enact fraternal responses for those in greatest need.  Mary our mother and model, be with us. Saints Francis and Clare of Assisi and our founding Brothers pray for us.
Glory be to the Father ….
---
The historical journey of our brothers through time is marvelously brought to life is this excellent video, aptly titled "The Monks of the West."  Please enjoy. READ MORE…
---
---
BBC Interview with Brother Peter Tabichi:  In this video, Franciscan Brother and 2019 Global Ambassador for Education, Peter Tabichi, reflects on the challenges and opportunties for teachers and students in these trying times of the Covid virus when students are not able to attend school in person.
---
Honors
---
Obituaries
Reflections on Fr. Gerry Foley RIP
Brother Larry Grimes: Memories
Brother Laurence Grimes – Brother Edmund Farrell
---