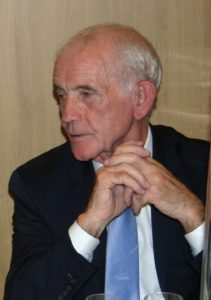 Welcome to the website of the Franciscan Brothers of the Third Order Regular as we celebrate our bicentennial year of serving God's people.  You are meeting us at a marvelous time in our epic journey from the early days of catechesis and rudimentary education for the rural poor in the west of Ireland to our mission today of enhancing human sustainability via formal education in agricultural and academic skill development among the rural poor in Uganda and Kenya.     READ MORE…
---
BBC Interview with Brother Peter Tabichi:  In this video, Franciscan Brother and 2019 Global Ambassador for Education, Peter Tabichi, reflects on the challenges and opportunties for teachers and students in these trying times of the Covid virus when students are not able to attend school in person.
---
General Council Meeting August 9 – 20, 2020
History was made with the first virtual Franciscan Brothers General Council meeting on 19 & 20 August 2020. This was by way of Zoom, with all four general council members participating: Sean from Mountbellew; Ireland, Hilarion from Los Angeles; Boniface and Bernard (secretary) from Molo, Kenya; Charles and I from Arua, Uganda. The meeting was hosted by the Uganda Christian University (UCU) – Arua Campus. Special thanks to UCU for the use of their facilities and especially to Robert Wamusi, the campus  IT specialist, who set up the Zoom calls and remained available during the meeting to solve any technical challenges that arose.
We are most grateful to everybody in each center who ensured a successful meeting and for the wonderful communication technology that is and will be part of the new norm for our formal and informal communications.
---
Br. Clement Brady, RIP
17 December 1936 – 05 June 2020
As our Brothers in Ireland, Family and Friends bid a final farewell to our beloved Clement Brady we who are not able to be there physically will be with him and them in spirit. Those of us who were privileged to know him and share his life will reminisce on a unique personality who was a real brother and a loving friend. We thank our loving Creator for creating such, a gentle loving person and for calling him to our way of life.
---
Larry Grimes: Memories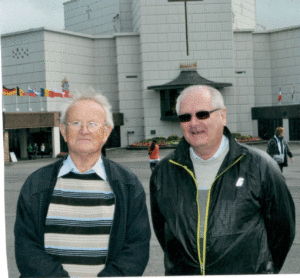 Something burst inside me.
The man I knew was alive but dead.
I hurriedly left Rosa Mystica Nursing Home robbed of all but tear blurred memories.
He did not recognize me!
Imagine an absence mingled presence; the wish to run and run and not return.
Back in the Corrandulla community emptiness gnawed refusing sleep.
---
March 10, 2020:  With great sadness we announce the death of two beloved brothers in consecutive days.  Br. Laurence Grimes died peacefully at the Mystical Rose Nursing Home in Claregalway, Co Galway, Ireland.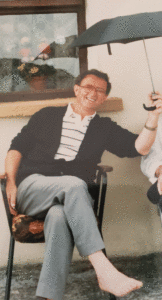 His death came just some hours after his fellow novice, Br. Edmund Farrell, went to his eternal rest.  May the light of heaven shine on them both. Br. Laurence will repose in Corrandulla on Friday evening (Community) and Saturday Friday PM (Parish) with his funeral Mass in Corrandulla Church on Saturday at 11 AM.  He will be buried in the Brothers' cemetery in Mountbellew following his funeral Mass.
---
Brother Peter Tabichi offers opening prayer for United States Congress
September 17, 2019 — Washington DC:  Before the assembled member of the US Congress, Brother Peter Tabichi, a humble and joyful Franciscan Brother from rural Kenya, echoed the universally known words of Our Seraphic Father, St. Francis, blessing the august gathering with the Peace Prayer of St. Francis.  Reaching back seven-hundred years to shine a new light and focus on the enduring sentiment of the great saint, Brother Peter stood before the assembly as a remarkable story in his own right.  Recently recognized as the Global Teacher of the Year for 2019, he is a living witness to the power of education and the inherent value and dignity of the teaching profession.  Congratulations Brother Peter.  This latest honor, coming in the bicentennial year of the Franciscan Brothers of the Third Order Regular, underscores the value  of your own and  your confreres' calling, to a simple life marked by service, fraternity, and prayer.  Click HERE to view the C-Span video of Brother Peter's prayer before Congress.
---
Honorary Doctor of Science for Minister General, Brother Tony Dolan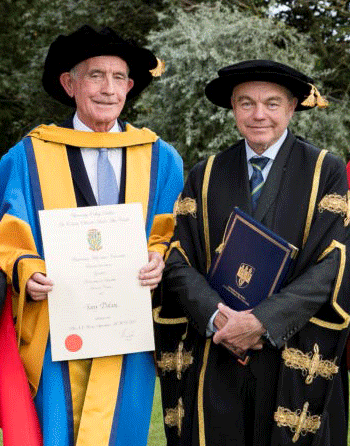 September 2, 2019: In a year of great honors for our Institute, we are proud to announce that University College Dublin (UCD) conferred a Doctor of Science degree "honoris causa" on our Minister General, Brother Tony Dolan.  The conferring took place within the regular Doctor of Science conferring ceremony on September 2nd.