Welcome to the website of the Franciscan Brothers of the Third Order Regular as we celebrate our bicentennial year of serving God's people.  You are meeting us at a marvelous time in our epic journey from the early days of catechesis and rudimentary education for the rural poor in the west of Ireland to our mission today of enhancing human sustainability via formal education in agricultural and academic skill development among the rural poor in Uganda and Kenya.     READ MORE…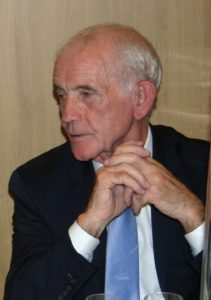 Easter 2021
Dear Brothers and Sisters:  This week-end's edition of the weekly 'The East African' has a banner headline: "Another black Easter" with a sombre looking Pope Francis backed by what looks like a sheet of black polythene. It is easy to fall into the trap of associating with this image in the context of our experiences of the past year and the consequent curtailment of our freedoms to enjoy the 'good' life.
However, our faith and experience tell us of a more life, energy giving story: 'that Jesus replaced the myth of redemptive violence with the truth of redemptive suffering'. The climax of redemptive suffering is the Resurrection that we may have to celebrate virtually tonight and tomorrow. Christ's resurrection offers promise of renewed life, a life filled with joy and hope and love.
'Wonder is the wellspring for love. Who we wonder about determines whose stories we hear and whose joy and pain we share. When a critical mass of people come together to wonder about one another, grieve with one another and fight with and for one another, we begin to build the solidarity needed for collective liberation and transformation – a solidarity rooted in LOVE …' (Valarie Kaur – in Richard Rohr's Daily Meditation, 02 April 2021).
In wishing each of you a blessed, joy, hope and love filled Easter I pray that you are energized and encouraged by the Resurrected Jesus to continue responding to the love of God in your life and praying and working for the liberation and transformation required to create a sustainable world in which every one of our sisters and brothers have the chance of living life with dignity.
Christmas 2020: Dear Brothers, colleagues in mission, and friends:  With unbounded gratitude for your continued support, co-operation and encouragement over what has been an unforeseeable year, I wish each of you a blessed, happy Christmas and every good in 2021. I hope and pray that all is well with you and that you are keeping safe, healthy and happy in these challenging times. Let us keep each other and all of humanity constantly before our all loving, caring Creator and all will be well.
---
BBC Interview with Brother Peter Tabichi:  In this video, Franciscan Brother and 2019 Global Ambassador for Education, Peter Tabichi, reflects on the challenges and opportunties for teachers and students in these trying times of the Covid virus when students are not able to attend school in person.
---
Honors
---
Obituaries
March 10, 2020 – Br. Laurence Grimes – Br. Edmund Farrell