Welcome to the website of the Franciscan Brothers of the Third Order Regular as we celebrate our bicentennial year of serving God's people.  You are meeting us at a marvelous time in our epic journey from the early days of catechesis and rudimentary education for the rural poor in the west of Ireland to our mission today of enhancing human sustainability via formal education in agricultural and academic skill development among the rural poor in Uganda and Kenya.     READ MORE…
---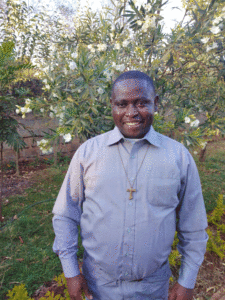 We are overjoyed that Brother Pius Muasa, has completed his studies, including his dissertation, and is about to graduate with a PhD in Counselling Psychology from the Catholic University of Eastern Africa (CUEA).  Although his dissertation is already published, Pius will have to wait until later this month for CUEA's actual graduation ceremony when he will actually walk across the stage to receive his diploma.  Not only that, Brother Pius qualified with a Mean Grade of A for the program. This is a wonderful achievement by Pius and a cause of great joy for his Franciscan brothers, family and friends.
Pius conveyed the news to his community, colleagues and friends as follows:
Dear Brothers: Greetings of peace. Allow me to share my result transcript after successful completion of my PhD studies. Graduation is next month (October) but the date is not yet confirmed. Thank you so much for your support and opportunities you have given me in pursuing counselling psychology. This to a greater extent will help me in making a meaningful contribution to our Franciscan mission in Eastern Africa and beyond. God bless you all.
Fraternally, Pius
Brother Tony conveyed our gratitude and congratulations to Pius as follows:
Pius, congratulations for a wonderful achievement. We are very proud of you and very happy to know that your hard work and commitment have reaped such a just reward. May our all loving, caring Creator continue to bless you and give you the health and passion for the promotion of our mission.
May you have much happiness and fulfillment in your life as a Franciscan Brother.
With much gratitude.
Yours fraternally, Tony
---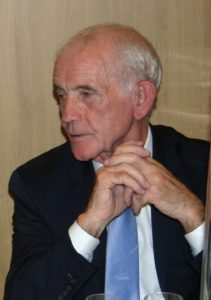 October 4, 2021: The signs of the times and leadership of Pope Francis are calling us Franciscans to promote the wonderful patrimony with which we are endowed. On this Feast Day of our blessed Father may each of us be inspired to rededicate ourselves to our mission of "empowering the marginalized in their struggles to liberate themselves and in caring for the earth"(our Mission).
Wishing each of you Brothers, Co-workers, Families and Friends a blessed, joy and loved filled feast of our beloved father, St. Francis of Assisi.
Fr. Gerry Foley, RIP: It is with the conflicting emotional responses of sadness and joy that we learned of the death of our beloved Fr. Gerry Foley yesterday (Thursday) morning. He died in Tallaght Hospital, Dublin after a short illness. Gerry has been part of the Franciscan Brothers Family since the 1980s. In a remarkable 59 year life as a missionary in Kenya and Uganda he contributed greatly to the promotion of the mission of Jesus among all who had the privilege of knowing him.
He came to Kenya in 1957 and left Uganda in 2016, 59 years later at the age of 88. From 1957 to 1980 he worked in the coastal area of Kenya – Taveta, Mombasa, Malindi, Kilifi and Tana River. In 1980 he started his 32 year commitment to the Pokot People in East Pokot. In 2012 he volunteered to go to Adraa in West Nile, Uganda, to live and work with the Franciscan Brothers. He spent three and half years there.
Gerry's philosophy was always to work with the people not for them and his approach was holistic. With the people he built schools, health centers and churches and evangelized in the context in which he found them. He utilized the "Pokot," meaning(sitting under the trees, sharing the word of God, listening to responses and gently encouraging the people to adopt the values and teaching of Jesus. During his time in Adraa there was nothing he loved more than going to the most remote outstations of small Christian communities to share the Word and Eucharist with communities that would be privileged to have mass once or twice per year. But, in addition, he established a welding and carpentry workshop, restored old engines and set up a grinding mill; in the process trained locals, male and female, with skills that would contribute to each achieving decent livelihoods.
In his 'retirement' years in Kimmage, Gerry retained a deep interest in and love for all things African and loved to meet with returned missionaries, religious and lay. He and I had the privilege of having four lovely days in what he called our 'annual mystery safari'. In 2019 it was to Leitrim but this year on the feast of St. Clare, 11th August, we travelled together to Mountbellew. From there, with Sarah Oates, we went through Connemara, visiting Clifden and Corrandulla communities, families and friends. On the Saturday, with Br. Alphonsus, he visited his fellow Adraa Volunteer, Brigid Ryan, in Loughrea. After returning from a lovely day with Brigida we watched Mayo beat Dublin in the All-Ireland semi-final and he looked forward to seeing Mayo go the whole way in early September.  His final words to me on leaving him back to Kimmage on the Sunday evening were: "I hope I'll be with you for another safari next year".
But it wasn't to be! Sister death has captured him for the great safari to his and our eternal home. And that is the source of our joy!  Br. Tony Dolan
Easter 2021
Dear Brothers and Sisters:  This week-end's edition of the weekly 'The East African' has a banner headline: "Another black Easter" with a sombre looking Pope Francis backed by what looks like a sheet of black polythene. It is easy to fall into the trap of associating with this image in the context of our experiences of the past year and the consequent curtailment of our freedoms to enjoy the 'good' life.
However, our faith and experience tell us of a more life, energy giving story: 'that Jesus replaced the myth of redemptive violence with the truth of redemptive suffering'. The climax of redemptive suffering is the Resurrection that we may have to celebrate virtually tonight and tomorrow. Christ's resurrection offers promise of renewed life, a life filled with joy and hope and love.
'Wonder is the wellspring for love. Who we wonder about determines whose stories we hear and whose joy and pain we share. When a critical mass of people come together to wonder about one another, grieve with one another and fight with and for one another, we begin to build the solidarity needed for collective liberation and transformation – a solidarity rooted in LOVE …' (Valarie Kaur – in Richard Rohr's Daily Meditation, 02 April 2021).
In wishing each of you a blessed, joy, hope and love filled Easter I pray that you are energized and encouraged by the Resurrected Jesus to continue responding to the love of God in your life and praying and working for the liberation and transformation required to create a sustainable world in which every one of our sisters and brothers have the chance of living life with dignity.
Christmas 2020: Dear Brothers, colleagues in mission, and friends:  With unbounded gratitude for your continued support, co-operation and encouragement over what has been an unforeseeable year, I wish each of you a blessed, happy Christmas and every good in 2021. I hope and pray that all is well with you and that you are keeping safe, healthy and happy in these challenging times. Let us keep each other and all of humanity constantly before our all loving, caring Creator and all will be well.
---
BBC Interview with Brother Peter Tabichi:  In this video, Franciscan Brother and 2019 Global Ambassador for Education, Peter Tabichi, reflects on the challenges and opportunties for teachers and students in these trying times of the Covid virus when students are not able to attend school in person.
---
Honors
---
Obituaries
Reflections on Fr. Gerry Foley RIP
March 10, 2020 – Br. Laurence Grimes – Br. Edmund Farrell