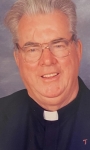 In his 90th year, having lived life to the full, Brother Hyacinth embraced Sister Death on Monday, March 6th at Flannery's Nursing Home, Abbeyknockmoy, Co. Galway.  Stories about the "Chief" will continue to be shared by those of us who truly knew him as one of the giants of our Franciscan fraternity.  A natural leader, Hyacinth stood out in every arena and his natural extroversion enabled him to transform casual acquaintances into lasting friendships.  Whether it was his first teaching assignment in Ballyglunin National School, running St. Anthony's in Clara, or serving as principal of Bishop Diego Garcia in his beloved Santa Barbara, Hyacinth was at the heart of the religious, social, educational, and golfing communities.
The Brothers recognized Hyacinth's leadership, electing him Minister General in 1973, a role he took on with gusto.  He loved traveling and frequently made his way to see the Brothers in New York, California and Kenya.
An avid and skilled golfer, Hyacinth loved the banter of his golfing buddies, especially enjoying the followship of the 19th hole.  Such was his golf acumen that he was the coach of the championship Bishop Garcia Diego HS golf team.  It didn't hurt that he had the Geigberger boys on his team.
After spending some time in retirement in Oxnard, California, Hyacinth made the decision to spend the remainder of his years in close proximity to his family.  Before illness overtook him, he loved visiting his family in Dunmore, having dinner with them on Sundays and relishing their company.  He had wished for more years of such joy, but the ravages of Alzheimer's Disease took its unrelenting toll, gradually returning him to places he had enjoyed in his younger days.  It was a long farewell.
Hyacinth will be greatly missed and will not be forgotten. Please remember him in your prayers.