Honorary Doctor of Science for Minister General, Brother Tony Dolan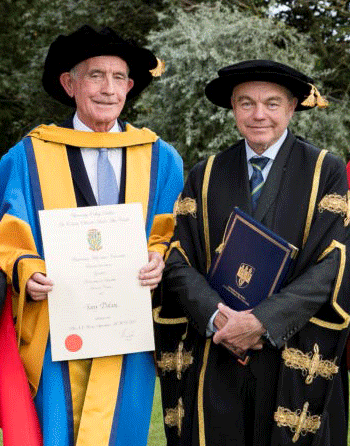 September 2, 2019: In a year of great honors for our Institute, we are proud to announce that University College Dublin (UCD) conferred a Doctor of Science degree "honoris causa" on our Minister General, Brother Tony Dolan.  The conferring took place within the regular Doctor of Science conferring ceremony on September 2nd.
In his address to the graduates of the Class of 2019, Brother Tony offered up plenty of sage advice, calling on them to:  "Have a world view that encompasses all of humanity and all of creation. Selfishness, greed and 'me fein' attitudes are leading to the destruction of humanity. Think globally act locally."  He asked the graduates to recognize their God-given talents, saying:  Develop the marvellous resources and gifts given to you by our loving Creator – human, social, natural, spiritual, physical and financial."  And no doubt, Brother Tony's  most profound words of the day related to listening to God's call to each of us.  Invoking Frederick Buechner's words, "The place God calls you is the place where your deep gladness and the world's deep hunger meet."  Tony indeed lives a life at the vortex of that meeting place.
This marvelous and well deserved recognition for Tony, follows on the recent recognition of Brother Peter Tabachi as Global Teacher of the Year Award for 2019, giving our institute so much to celebrate in this our bicentennial year.  National and global recognition from secular institutions is such a terrifc affirmation of the two-hundred years of loving service our brothers have provided to the world, within the Church and in secular society.  In an era that cries out for authentic heroes and role models, the world is saying, "Brothers, you have heroes in your midst."