March 10, 2020:  With great sadness we announce the death of two beloved brothers in consecutive days.  Br. Laurence Grimes died peacefully at the Mystical Rose Nursing Home in Claregalway, Co Galway, Ireland.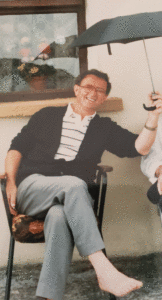 His death came just some hours after his fellow novice, Br. Edmund Farrell, went to his eternal rest.  May the light of heaven shine on them both. Br. Laurence will repose in Corrandulla on Friday evening (Community) and Saturday Friday PM (Parish) with his funeral Mass in Corrandulla Church on Saturday at 11 AM.  He will be buried in the Brothers' cemetery in Mountbellew following his funeral Mass.
The previous day, we received news of the death of Br. Edmund Farrell. Close to 90 years old, Edmund was the oldest member of our Congregation. He had been sick for some time and in recent years has been in care of the staff of Flannery's Nursing Home in Abbeyknockmoy, Co. Galway, where he he rceived great care from the staff. A special word of thanks to Br. William Martyn, who over the past number of years, has taken great care of Edmund and his fellow patient in the same Nursing Home. William visited Edmund regularly, looking after his medical appointments and transporting him to hospital when necessary.
Edmund grew up in Ballymacurley, Co. Roscommon, close to Farragher Monastery, receiving his early education in the Brothers Primary School. He was a farmer for most of his working life and was farm manager in Kilkerrin, Currandulla, Piltown and Clara. He also spent a number of years working in England. An excellent farmer, he contributed to his respective communities and to those in the vicinity of the monasteries where he resided. He was a physically strong man with a wonderful physique that made him the envy of the young Brothers. Politics and current affairs were a deep passion for Edmund and there was never a dull moment in his presence. Above all he was a strong, loyal community-focused Brother who was committed to the life and values of our Congregation.
We thank our all loving, caring Creator for Edmund and for the contribution he made during his long life to our Brothers, his family and the people he was privileged to serve. We now let him go in peace as we say our goodbyes in the company of his family and friends.
Ar dheis De go raibh a anam dilis.
Fraternally, Brother Tony Dolan