St. Clare of Assisi (1193–1253)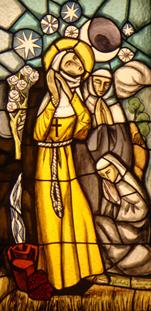 Until recently, much of what we knew about St. Clare was portrayed in light of her fidelity to St. Francis. Her accomplishments were described in terms of how closely she stayed within his language, model, and spirit. Yet, it is important to note that she outlived Francis by some 27 years.
Unlike Francis, she did not experience a dramatic conversion. The witnesses in the Process for her Canonization frequently refer to her holiness while she was young.
Clare was filled with joy at the thought that she had received an invitation to follow in the footprints of Jesus.
She saw this in light of her baptismal call to live the Gospel. In her Testament, she asks her sisters to always remember with a spirit of thanksgiving the wondrous gift given to them in their vocation. She saw herself and her sisters as women called to reflect to each other, and to those who knew their way of life, the self-emptying, merciful love of Jesus.
Clare, like Francis, looked at life with wonder and awe. She experienced God's tender love and mercy in prayer, in relationships with others, and in service.
Shortly before her death, she wrote a letter to St. Agnes of Prague, encouraging her to cling to Jesus "with every fibre of her heart." She wrote that the results would be "excitement, refreshment, fulfilment and delight" (4th Letter to Agnes).
Clare was filled with a "joy that no one could take from her"!