Lady with a Mission – Sarah Oates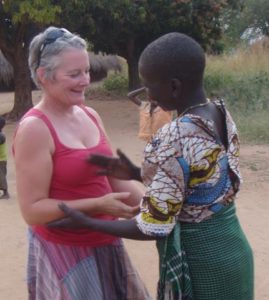 This is an edited version of an article that appeared in the Irish Country Living Magazine of the Farmers Journal on October 12th, 2013.
Having reared three sons, Sarah Oates is used to being the only female in the house – though she never expected that she'd one day be in Uganda as a lay missionary with the Franciscan Brothers. It's been a journey in every sense. Raised on a farm in Carlow, Sarah came into contact with the Franciscan Brothers after winning a scholarship to their Agricultural College in Mountbellew (Co. Galway) in 1980.
There she met fellow student and future husband, Michael Oates from Galway. They married in 1982 and had three sons: David, now 29, Mike 27 and Stephen, 22. Sadly, Michael passed away in 1999. Sarah, who was running her own sewing business, closed it to stay at home with the boys for a year. She returned to work as a cleaner in the Mercy primary school in Tuam in 2001.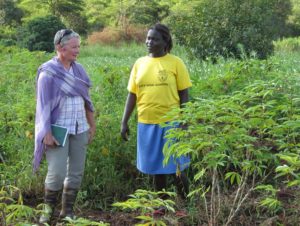 With further training, Sarah soon found herself taking on many new roles, including a part-time position as secretary in the local gaelscoil (Irish language-medium school) Iarfhlatha. However, it was while working as an administrator with Tuam community development resource centre that she had the life changing experience of participating on an exchange to Tanzania.
After visiting Swaziland with Skillshare the following year, Sarah became drawn to the idea of becoming a lay missionary, studying "Spiritual Direction" with An Croí in Drogheda, followed by training for mission with Viatores Christi.
"I had no idea where I would be going or what I would be doing," said Sarah, "but I knew for sure this was where I was meant to be."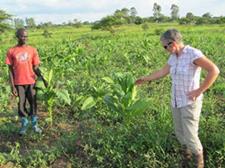 As an active member of Mountbellew's Past Pupils Union (PPU) Sarah had long been involved in fundraising for the Franciscan Brothers Mission in Kenya. With a new project planned for Uganda, Sarah contacted Br. Tony Dolan (former Mountbellew principal) and in September 2012 – with a leave of absence from her work – traveled to Africa to volunteer as an administrator in a new agricultural college just being established in Adraa. The PPU assisted Sarah with flights and insurance costs.
While the work is rewarding, Sarah admits there are challenges, such as the struggle to learn the language of the local Madi people. Phone and internet reception is also poor, so, although she manages occasional visits home, it is hard to keep in touch with loved ones.
"I've only managed to Skype twice," says Sarah. "I know that I am missing out on a lot, especially watching my granddaughter Ava, who is now three, grow from a baby to a beautiful young lady."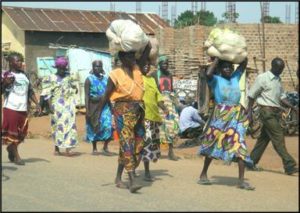 However, she feels her late husband is with her in a way that "cannot be explained in words". And that whatever path has led her from the west of Ireland to the West Nile province is the one that she was meant to travel.
"When I meet some of the challenges that I don't understand and can't see a way around, I remind myself that I am here because God wills it," she explains.
"I may never know why God wills it, but I accept that, for whatever reason this is where I am meant to be."